EXTREME 66 INDOOR SKYDIVING
EXTREME 66 INDOOR SKYDIVING
---

INDOOR SKYDIVING
Would you like to try the amazing feeling of free fall in the safety of wind tunnel with professional experienced coaches? Then you're in the right place. We have programs for beginners, skydivers, we organise all inclusive wind tunnel camps for everybody and you can also use the wind tunnel for your company event. Indoor skydiving is the only way of flying you can experience without taking any risks connected with the outdoor aerial sports.
FUN FLIGHT
Experience what it feels like to fly in the only circular glass flight chamber in the world!
After a short briefing and without any special training you can try a flight under the supervision of a professional instructor. The wind tunnel is modified for beginning flyers, stable stream of air at a speed of around 200 km/h corresponds to a real free fall!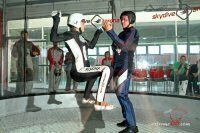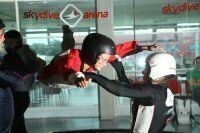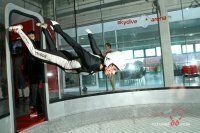 ANYONE CAN FLY!!
with the exception of the following:
Children younger than 5 years of age, Pregnant women, Persons under the influence of alcohol or other drugs, Persons with impaired blood circulation, Persons with back problems, spine or any injuries, Persons weighing over 130 kg.
Each flyer signs a declaration about his/her health status and persons under 18 years need the consent of a parent or guardian.
You can bring along friends or family who can watch your flight, take pictures or shoot. We recommend comfortable clothing under the suit and sports shoes. The tunnel is equipped with a recording system which allows to obtain a record of your flight as a memory of this unique experience.
WHAT DO YOU NEED TO DO TO FLY WITH US?
Go to our ESHOP, choose one of our packages and schedule your flight!
OUR PRICE:
ALL INCLUSIVE package 3 min 98 € (2250,- CZK), 6 min 163 € (3750,- CZK), 9 min 196 € (5 250,- CZK)
ALL INCLUSIVE package 30 min alias BECOME A SPORT FLYER 721 € (16 600,- CZK)
BASIC package 3 min 63 € (1500,- CZK), 6 min 126 € (3000,- CZK), 9 min 196 € (4 500,- CZK)
BASIC package 30 min alias BECOME A SPORT FLYER 606 € (14 000,- CZK)
SPORT FLIGHT
If you like to use sport products, it is necessary to have an activated registration for sport flying. For the activation you must proof you already have minimum of 30 minutes tunnel flying experience at INDOOR SKYDIVING PRAGUE or any other wind tunnel all over the world.
Sport flight means that you can practise flying on your own and there will be just one safety instructor in the door to the flying chamber, or you can hire a professional coach, who will illustratively show you what to do and guarantee the best progress for you! ;)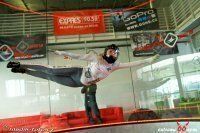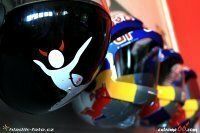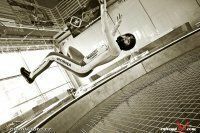 Experienced flyers can use the full output of and fly at speeds over 300 km/h. Less experienced flyers can use prepared programs that lead to improvements in skills and techniques under the guidance of our experienced coaches. Each participant have their own equipment or can rent the equipment at our wind tunnel.
Sport training in the windtunnel is suitable for starting skydivers and for the experienced skydivers as well. All you learn in the safe atmosphere of the windtunnel will be ready to use in the sky with the parachute on your back! Experience what it feels like to fly in the only circular glass flight chamber in the world!
WHAT DO YOU NEED TO DO TO FLY WITH US?
Go to our ESHOP, choose one of our packages and schedule your flight!
OUR PRICE
60min .................826 € (18 500 CZK)
180min ................2 346 € (52 500 CZK)
300min ................3 806 € (84 375 CZK)
600min+...............7 386 € (162 500) CZK
coaching fee........150 € (3 600 CZK) per 60minutes of flight
equipment rental..20 € (500 CZK)
TUNNEL CAMPS IN PRAGUE
Fly in one of the best windtunnels all over the world, in the evening go for a little bit of sightseeing in Prague and taste the czech beer! ;)
Use the opportunity to schedule your days, come and fly indoor and outdoor!
Prague is very beautifull city, we have a special program available for flyers joining our tunnel camps! Including:
HIGHLIGHTS OF PRAGUE
JUMP WITHOUT PARACHUTE
AEROBATIC ADVENTURE
SPORT CARS alias FLY LOW
and the FIGHTER JET CRAZINESS!
How does the camp work?
The tunnel camp lasts 4 days and includes 2 hours of actual flying time at INDOOR SKYDIVING PRAGUE high tech wind tunnel. You will be rotating with up to 2 other flyers. This will give you enough time to relax between your flights and debrief every flight with your coach! With extreme66.com you have arranged accomodation 15minutes from the windtunnel, transport and sightseeing in Prague, coaching, tunnel time, and free beer after every day of flying!
How the typical camp day looks like?
In the morning we leave the hotel located 15minutes from the windtunnel! During the day, you can expect to spend your time before the session preparing and talking through technique and theory. You will be spending all of your time in the tunnel with an experienced coach. This enables you to have the most effective learning available. After each flight, you can see your flight on the screen next to the flight chamber, at the end of the flying session we will debrief with video, talking about good things from the session and improvements for the next.
What do you need to do to fly with us?
1) Choose the days of your camp... and tell your friends to join you! ;)
2) Order at camps@indoorskydivingprague.com
3) FLY, FLY, FLY!
OUR PRICE
1 DAY 30minutes of flying + accomodation 1day + coaching................520 €(12 000 CZK)
2 DAYS 60minutes of flying+ accomodation 2days + coaching..........1 040 € (24 000 CZK)
3 DAYS 90minutes of flying+ accomodation 3days + coaching..........1 560 € (36 000 CZK)
4 DAYS 120minutes of flying + accomodation 4days + coaching........2080 € (48 000 CZK)
The total cost of the camp includes tunnel time, coaching, preparation, debrief and video, accomodation and transport to the wind tunnel. The camp starts at approximately 10 a.m. every day (some are slightly earlier or later due to tunnel availability) and begin with a warm up and stretching, then right into the first session.
UPCOMING AVAILABLE CAMPS
on your special request at your descretion!
COMPANY EVENTS
Are you looking for an extreme and different way of teambuilding for your emloyees? The experience of flying in the wind tunnel is the ideal opportunity!
The wind tunnel experience is a lot of fun for individuals, parties, groups, corporate events & team building!
We are organising one-day and multi-day corporate events for companies and their partners in the unique environment of the biggest wind tunnel in the Czech republic and middle Europe!
By using our teambuilding opportunity, your employees spent time together outside the work environment, which they will remember for a long time.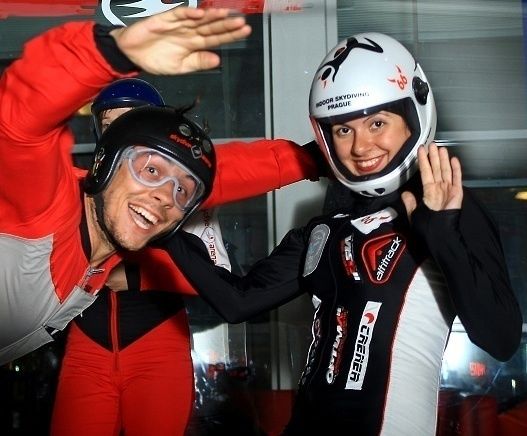 Delightful sense of freedom that you experience when flying safely under the supervision of experienced instructors, cant be described until you try it yourself! The common experience of flight creates a bond and an unforgettable memory. Non-traditional team building is the ideal form of thanks, expressing that you appreciate the work of your people! Come try for yourself!
Your satisfaction is our pleasure, we focus on a good mood, informal atmosphere and an escape from everydaywork problems. We offer a common experience that becomes the unifying theme of discussions not only during the event itself, but even some time after returning to the company!
Don't hesitate to contact us, if you have any questions!
The operator of the wind tunnel in Prague is a company Superfly PRAGUE s.r.o.
Address: Tupolevova 736, 199 00 Prague 9 Letňany
EXTREME 66 can also provide you tunnel time and professional coaching at any other wind tunnel all over the world.