EXTREME 66 SKYDIVING
EXTREME 66 SKYDIVING
---
OUTDOOR SKYDIVING
Now we will see what the options are to try parachuting, whether you are interested in one-off experience, or you would like to become a professional skydiver. EXTREME 66 is providing all types of trainings for begginers, coaching jumps for experienced jumpers and programs for future professional skydivers.
FIRST SOLO JUMP TRAINING - STATIC LINE
If you just want to do your first step from the airplane on your own, dont wait and just do it! The easiest way, how to do it is a static line.
This type of training is provided by EXTREME 66, the biggest skydiving school in Prague with hundreds of students jumping over the Czech republic during the summer and all over the world all year long!
During a jump with static line, the parachute is linked to the airplane. The static line opens the parachute without intervention of the student and regardless of his position after the exit. The student remains in freefall for about four seconds, before his main canopy gets completely opened. This time is sufficient enough for a student to experience the air pressure and become aware of his position until the full opening of his canopy.
In order to safely open his parachute in freefall, a skydiver has to be in a stable position. Before a student can practice freefall on his own, he has to show that he masters this position.To be able to do this, the student jumps from 1 200 meters with an automatic opening device.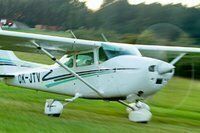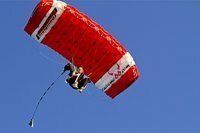 We will train you and discuss with you all important information you need to know to enjoy your first jump and do everything safely. During your training, we will be watching a lot of videos, that will help you a lot to imagine something you actually cant imagine before you try.You can join our wind tunnel session customized for first time skydivers! We will practise some exits from the airplane on the ground, exercise all the normal and emergency procedures and get ready for the worse in order to enjoy the best!
Order your first solo jump training in our ESHOP and you will see!
OUR PRICE 150 € (3600 CZK)
UPCOMING AVAILABLE TRAININGS:
on your request


AFF - ACCELARATE FREE FALL TRAINING
AFF is a modern, highly succedssful and fun skydiving course that is recognised all over the world. This method of skydiving training is called "accelerated" because the progression is the fastest way to experience solo freefall.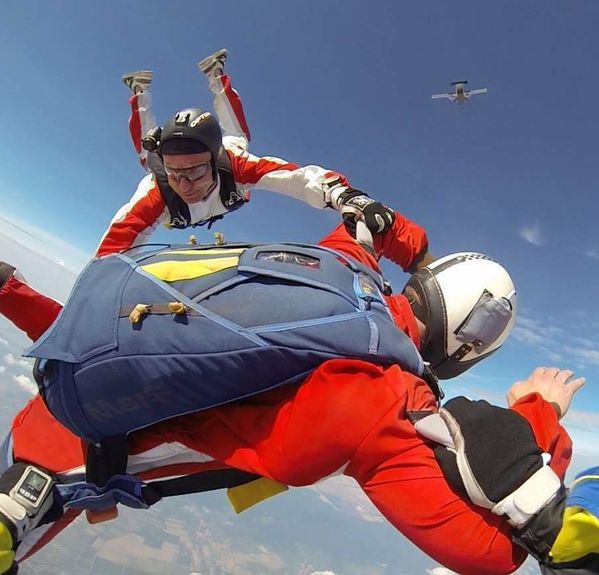 In static line progression, few more jumps are required to experience solo freefall, but the jumps are less expensive for the student as one instructor can dispatch multiple students per load, whereas under accelerated freefall, one or sometimes two instructors are dedicated just to one student.
Our skydiving course is based on you completing 8 skydives accompanied by expert instructors. Once you have completed your AFF skydiving course you will have the basic skills required to skydive on your own. You can learn to skydive with our AFF course in as little as 3 days and get your skydiving qualification in just a week.
We can also incorporate indoor training at some of the world's leading vertical wind tunnels if necessary.
You can order AFF training in our
ESHOP
OUR PRICE 1 770 € (40 660 CZK)
UPCOMING AVAILABLE TRAININGS:
on your request
ONGOING TRAINING
If you want to continue with the sport training, you can get your license and become a real skydiver! We will provide you with world class coaching from the beginning of your training and we can teach you up to professional skydiver level, instructor, camera flyer or tandem master!
You can choose one or more skydiving disciplines and start getting better and better. We will teach you how to control your body in freefall and keep your skydiving safe!
Don't forget that it is way easier to learn how to do it with an experienced coach, than try to go over bad habbits you have from trying somehow on your own. Those tries are not only ineffective, but sometimes really dangerous.
We can offer you world class professional coaching in FREESTYLE, FREEFLY and CANOPY PILOTING.
We also provide complete trainings:
It is up to you, what would you like to be. Don't be shy, let's fly!
CONTACT US for detailed info about your best progress.

TANDEM JUMP
This type of jump allows you to try what professional skydivers do without going through any training or medical tests. You just have to be at least 8 years old to jump, other than that, there are no limitations.
You will jump with your tandem pilot, a very experienced skydiver with thousands of jumps, who will do everything in order to keep you feel comfortable and safe for the entire time. The preparation takes about 10-15 minutes. During that time, your tandem pilot will brief you and get you ready for the jump. After that you are ready to jump!
First of all you will be enjoying a nice sightseeing flight for about 20minutes, while climbing all the way up to 4000m. If you feel worried about your jump, your tandem pilot will make you feel comfortable and relaxed…
The most impressive part of your jump is the moment of exit. It is an entry into a new world of the 3-dimensional freedom. You will experience something you have never tried before. It is hard to explain as far as it is something you cant understand without really trying it. You don't feel any falling. It is as if you were floating without feeling any gravity. You will taste 60 seconds of amazing freefall, reaching a speed of 200km/h.
The tandem pilot releases his main parachute at a height of 1500m above the ground level. From this moment you are flying through quiet unlimited space. If you want, you can try to control the parachute down to the height of 300m above the ground level. From this point the parachute is back under control of your tandem pilot in order to land smoothly and safely. Landing equals a fall from a height of one step, it is quite easy and safe.
You can have your jump documented by another skydiver, who will film you and take some nice pictures of you enjoying the jump.
Now only think about if you seriously want to enter the 3-dimensional world with a tandem pilot on your back, or you would prefer enjoying that very special moment in private, get trained and do a first solo jump! That's all up to you.
You can order your tandem jump in our ESHOP!

OUR PRICE 150 € (3 600 CZK)
UPCOMING AVAILABLE TANDEM JUMPS:
every weekend according to the weather
DON'T HESITATE TO CONTACT US WITH ALL YOUR SKYDIVING REQUESTS AND LETS MAKE IT HAPPEN!
...too much skydiving is not enough!